GSeat Gel & Ultra Seat Cushions
The seating surfaces we face on a daily basis are often not comfortable. One of our main complaints involves the point of contact where our body weight exerts pressure on the seat of a chair. This often leads to discomfort and fatigue.

The GSeat uses visco-elastic gel and a functional design to disperse pressure and improve the level of comfort wherever you sit.
The GSeat Gel Seat Cushion Features:
Because of superior materials and functional design, we feel that GSeat is the premier portable product for seated comfort. We think you will too.
Uses for the GSeat:
New and Improved G-Seat Gel Cushion has finally arrived and is available for immediate shipping. The long process of re-tooling and gaining FDA approval is over. We've tested the new model and it is quite comfortable and functional. It features the following improvements:
Using the GSeat



Please note that the Gseat is formed with an anterior (forward) tilt or seat wedge like design. This requires that it be properly placed with the thinner side forward, in order to get the true benefit that can be derived. This facilitates an ergonomic forward pelvic tilt that helps the hip joint, improves the posture of the spine and can aid with sciatica.
New Gseat Ultra Ultra (formerly the Gseat Mobility Cushion)

Ergonomically engineered to enhance comfort while seated. It slopes forward 5 degrees to return your pelvis to its proper posture, reducing low back pain and maintaining proper lumbar curvature.
The Gseat Ultra is a plush 2 inches thick in the main seating area toward the back. It uses polyurethane gel to disperse pressure at the point of contact, while also featurning a center relieved groove that eliminates pressure on the the tailbone and soft tissue.

Dynamic Density Technology combines the benefits of a generous portion of gel and memory foam to create a medium weight cushion that provides superior comfort (about 4.5 lbs).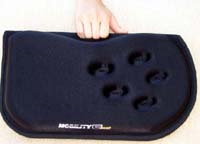 The Gseat Ultra is quite a bit larger than the regular Gseat and requires a little larger seating surface, but if you have the room, the comfort of this one is unbeatable.

The Integrated Handle and foldable design is patented technology that makes the Ultra Gseat conveniently portable.