Nimble-Pedic™ Memory Foam Yacht Mattress - Experience Sleep!

The Memory Foam Yacht Mattress by Nimble-Pedic™ is the ideal foam for yacht mattresses yacht mattresses. is ingeniously made from a temperature-sensitive visco-elastic material chemically very similar to what was originally developed 20 years ago by the N.A.S.A. Space Program.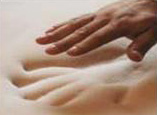 Utilizing a high density, advanced visco-elastic material, this yacht mattress is both hypo-allergenic and environmentally friendly. The foam has been tested for its ability to conform to the shape & curves of the human body. Although the "shape adapting foam" in our mattress is in essence a memory foam, the feel seems so special when we compare it to other foams in the industry, that we call it "Nimble Body Conforming Material™ ". This material is 100% dust-mite free, making it great for allergy or sinus sufferers.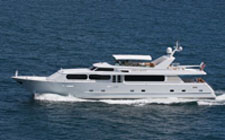 Motionless Seas: Another great feature when compared to other mattresses for yachts is the fact the Nimblepedic™ reduces much of the impact, and absorbs much of undesirable motion resulting from rough seas. This visco-elastic material is a high-density equivalent to a 5.3 lb. memory foam, which is rarely seen in the market. Many times more dense than foams used by many other manufacturers, the material is temperature sensitive. In other words, when below 60 degrees, the mattress becomes firmer, but at body temperature it becomes quite soft, molding itself to the body's shape.

Since the contact area distributes pressure evenly, there are no numb spots or pressure points. The Nimble-Pedic™ Yacht Mattress provides equally dispersed support without pressure points. There is no sagging of the spine or undesirable "hammock effect." After many years of clinical research on humans and sleep, and extensive experience with TEMPUR-PEDIC®, The Nimble-Pedic ™ Mattress was born. This mattress was once considered a luxury, but has become a necessity for those desiring the best sleep experience. Willmaxx takes luxury a step further and now offers Nimblepedic™ as the ultimate mattress for yachts.
Mattress Depth Choices
Features of Heat Reducing, Air-Permeable Mattress Cover
10 Year Limited Warranty
10-Year Limited Warranty - The Nimble-Pedic™ Yacht Mattress is complimented by a 10 year (5 year non-prorated, 5 year pro-rated) manufacturer's warranty.
Patented Side Rail Support
The availability of the patented side rail feature shown below is dependent upon the actual sizing required for your foam yacht mattress. Custom sizes do not include the side rail edge support.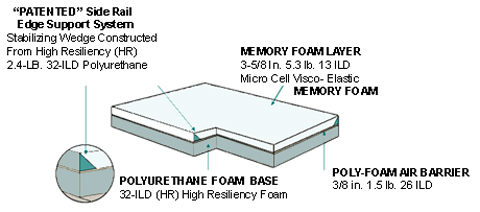 NIMBLE-PEDIC™ VS. TEMPUR-PEDIC®
Features
Nimble-Pedic™
TEMPUR-PEDIC®
Forming Process
Poured Individually in a mold.
Poured Individually in a mold.
Visco-Elastic Foam
5.3 lb. Per Cubic Ft
With Comfort Advantage™
5.4 lb.
Comfort Advantage™
Softer, More Luxurious Feel
(Lower ILD)
Harder feel
(Higher ILD)
Visco Top Foam Thickness
3 5/8 Inches
3 1/2 Inches
Air Flow Layer
Polyfoam Super Air Flow Enhancer
AirFlow System™
Muslin Inner Liner
Included
Included
Velour Mattress Cover
Breathable Cover
Breathable Cover
*** NOTE: Our Nimble-Pedic™ mattress meets the CAL 117 requirement for fire retardency.
Tempur-Pedic® is a registered trademark of Tempur-Pedic® , Inc. Use of such mark herein does not imply sponsorship or endorsement of Nimble-Pedic™ by Tempur-Pedic®